Press Reviews


Click image below for full page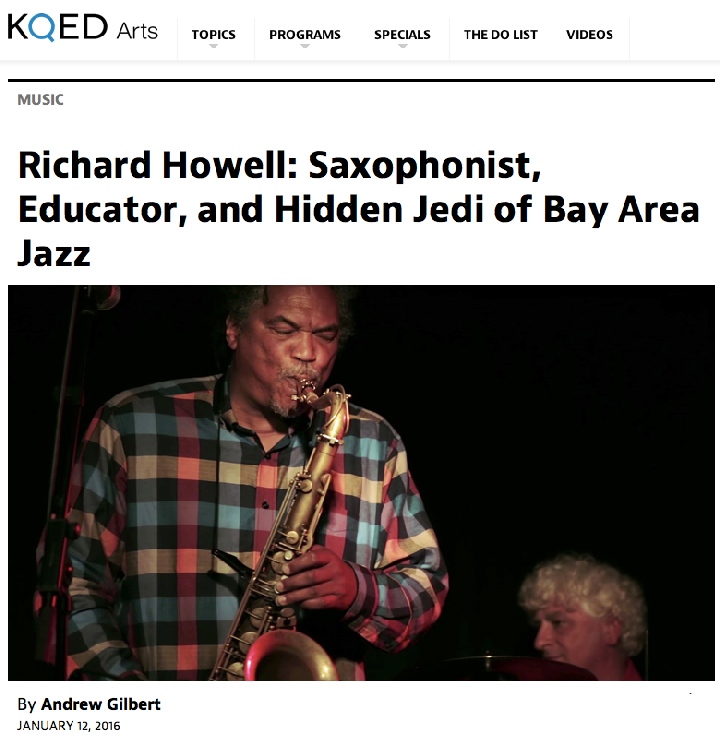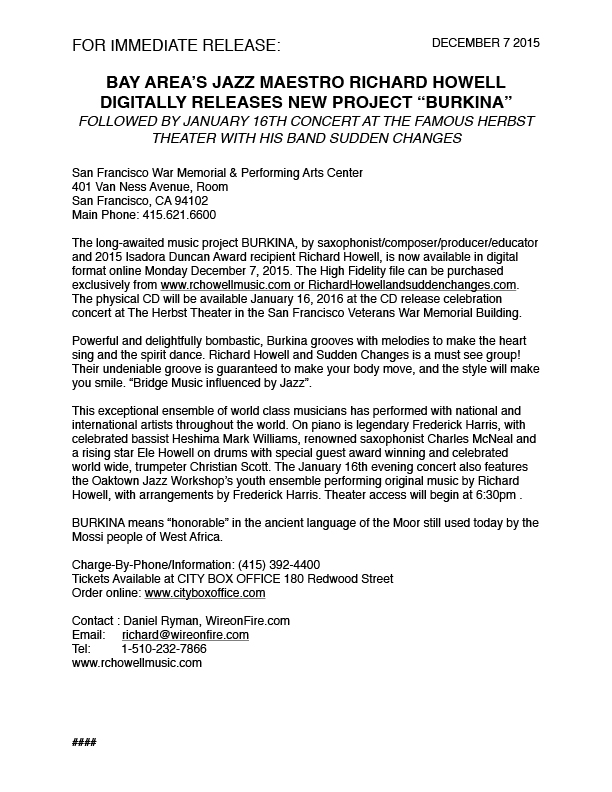 INDEPENDENT JOUNAL NEWSPAPER JAN.17, 2014
http://www.marinij.com/marinnews/ci_24937835/music-fill-air-at-county-board-meetings


2013 BERLIN JAZZ FESTIVAL REVIEW
http://www.jazzwisemagazine.com/news-mainmenu-139/70-2013/12884-jazz-breaking-news-christian-scott-and-joachim-kuhns-gnawa-jazz-voodoo-with-pharoah-sanders-light-up-jazzfest-berlin
GERMAN
http://www.jazzzeitung.de/cms/2013/11/jazzfest-2013-gestartet-christian-scott-und-joachim-kuehn-stage-stretch-stretch/
LONDON JAZZ NEWS
http://www.londonjazznews.com/2013/12/festival-report-berlin-jazz-festival.html

ITALIAN NEWS
http://www.ilnuovoberlinese.com/jazzfest-berlin-2013-il-nostro-resoconto/
RICHARD HOWELL -CARLOS SANTANA
http://youtu.be/n1M_VkAsYNM

BERLIN STREET FEST-SAMBA SOCK
http://youtu.be/Za5flPjBx-8


SAMBA SENEGAL FESMAN
http://youtu.be/UpuSlFxvVBc

IMPROVISATION #1 RICHARD HOWELL
http://youtu.be/8gn7r0UzE4w


Festival Report: Berlin Jazz Festival 2013

The launch event on the opening Wednesday included a film, a panel discussion and a concert by the German-Malian Trio Ivoire. Their appearance introduced an African theme to the festival programme. The following day, the festival put down a few more markers: New Orleans-born trumpeter Christian Scott is the kind of musician whom perhaps only the birthplace of jazz itself could have produced. He is a virtuoso at the peak of his game, powerful and earthy, right in the groove, yet clear, and at the same time both an entertainer and an intellectual. He is an heir to Buddy Bolden, completely hip to the beats and sounds of contemporary pop, but also fully aware of and inspired by his forefathers' passion.
He portrays the experience of insidious everyday racism, as seen from the perspective of a thirty -year-old African-American, through music full of vigour and freshness, elegance and anger. His sextet was formed several years ago at Berklee College in Boston. These players, rooted in the formally taught chord-scale lexicon, skittered up and down the octaves, but it was their guest, a musician from another era, who enabled them to step into a different and better light: the soprano saxophonist Richard Howell is some thirty years older than Scott, and is far too little-known. He is a musician who developed his focused sound alongside such players such as Jimmy Smith, Cecil Taylor and Don Cherry. His unruffled manner, his clarity of melodic line and thought brought the hustle and bustle of the younger men into perspective. You have to see the encounter of old and young together to register what is lacking from technical accomplishment on its own. This was a meeting that made the rings in the tree-trunk of jazz visible, serving as a reminder of what is missing from young wood.

Opening this year's Jazzfest Berlin on Thursday night,Christian Scott quickly established his credentials not just as a remarkable trumpet player but also as a skilful composer and bandleader. From the lyrical to the forceful he unleashed a constant flow of ideas, some delivered in short stabbing phrases, others as long sinuous sentences, but all adding up to a satisfying musical statement. His longest musical partnership, stretching back ten years to their student days at Berklee College, is with guitarist Matthew Stevens. A fine, thoughtful soloist with a rounded tone that is sometimes at risk of being overwhelmed by the rhythm section, his role in the basis largely supportive, accompanying soloists or as an additional voice in ensemble passages.
After Scott brought his initial solo to a dramatic close, Braxton Cookadopted a contrasting approach to his alto sax solo. Unhurried and leaving plenty of space, he delivered a couple of short, oblique motifs from which he developed a satisfying solo, full of interest and devoid of superfluous technical displays and clichés. Scott's concern to select colleagues with strong individual voices is equally apparent in the rhythm section. Drummer Corey Fonville (who also competes head-to-head with his boss in the interesting hairstyle stakes) doesn't simply propel and support the band. He is at its heart of its music, prodding, cajoling, stimulating and suggesting with ferocious fills and polyrhythmic patterns. He, together with bassist Kriss Funn, guitarist Matthew Stevens, and pianist Lawrence Fields make an outstanding rhythm team.
As if to show that in spite of their youth they are aware of jazz history, Scott chose to play 'Blue Monk' as their encore. This seemed unnecessary at the time as the audience was clearly delighted with their music, but the reason became clear when Scott summoned their guest, saxophonist Richard Howell, to the stage. Probably twice their average age, Howell played a beautiful, passionate solo that rounded off an entirely satisfying performance.




http://www.marinij.com/marinnews/ci_24135215/jazz-maestro-unifies-marin-housing-partisans-during-heartfelt?IADID=Search-www.marinij.com-www.marinij.com
RICHARD HOWELL QUINTET AT YOSHI'S SAN FRANCISCO
JAMES ADAMS
Richard Howell Quintet at Yoshi's San Francisco By James Adams


Certain artists have a presence that draws you to them. It's difficult to describe, but by watching and listening to them, sometimes, before they've played a single note, you know you're going to connect with them.

Bay Area-based Richard Howell is one of those artists. This veteran musician, vocalist and educator is usually seen and heard touring the world in the bands of other great musicians. Leading or not, whenever he's onstage, you can feel that presence. Howell recently showcased his new band at Yoshi's in San Francisco. The Monday night audience was filled with a host of family and long-time friends-one from as far away as Denmark. The performance was also taped for upcoming CD and HD Video releases, both due out in late 2008.

The band features a number of locally known musicians, including Fred Harris on piano, Gary Brown on bass, E.W. Wainwright on drums, and Destiny, harpist from the 'hood. Anyone not familiar with the use of a harp in a jazz ensemble would benefit from some research into the seminal works by the late Alice Coltrane. In fact, the style of Howell and the arrangement's use of the harp, conjures up memories of the sound created by Coltrane and her frequent recording partner, Pharaoh Sanders.

In a somewhat unusual beginning for a jazz performance, Howell's longtime friend and comedian, Timothy Jackson, opened with a short stand-up routine. As he was coming to the end of his routine, segueing into the band introductions, Howell could be heard playing, "Lift Every Voice and Sing" from backstage. He then emerged from the wings, still playing, while the rest of the band took their places onstage.

To open, he engaged the audience in a conversation, first to thank them for being a part of this important musical event, then to provide perspective on the origins of this group and it's direction moving forward.

Introducing the opening song, Howell was intentionally ambiguous in terms of the title. In essence, he was getting the point across that the title was far less significant than the piece itself.

As he laid it out, you began to understand that it was music "in the moment." Now, whether or not it was a previously written and rehearsed piece remains an interesting mystery. The closeness of this unit, their ability to connect with each other musically and spiritually, makes it easily feasible that they could perform an entire set, freeform.

Howell's compositions and this band's interpretations combine to create music that connects with one's soul. The up-tempo pieces embody the atmosphere of celebration and festivals. In the ballads, a tone of meditation and spirituality replace the all too frequent sadness and melancholy.

A high point in the set, and what had to be a very proud moment for Howell, took place when his son, El Salif, joined the band on stage for a number.


The younger Howell is a student of Wainwright, and has become quite a versatile musician. He is not quite a teenager yet, but has already adopted the drumming style of the legendary Elvin Jones. Both his grade school and piano teachers were in attendance, and after a solo piece on the djembe, Wainwright and his father joined him on an improvised percussion piece.

As with any joyous occasion, no one wants it to end. This one did, after almost running into the start of the second set. The band is preparing to tour Europe before making the rounds around the country. Somewhere along the line, I'm sure a recording session will be in the works.

In any case, this set of performances is scheduled to be released in the fall of 2008. Make sure to keep it on your radar.


MORE PHOTOS FROM SMUG MUG http://www.smugmug.com/community/JAZZ-LEGENDS/keyword/yoshis/1/311723758_PGC

Booking contact ONLY: rhq@sbcglobal.net
510 532-7870

E.W.WAINWRIGHT

FRED HARRIS

GARY BROWN

DESTINY harpist from the 'hood,

RICHARD HOWELL

and YOU


Jazz Radio 101.9 Berlin
"The charismatic, communicative jazz saxophonist from San Francisco brings out the role of jazz as a grassroots art form...Jazz expert or not, you can internalize the emotional effect."

Richard Howell
Maurice White, founder of Earth, Wind & Fire
"I have the deepest respect for his musical abilities. He walks in the same path as the great ones: Joe Henderson, Don Myrick to be mentioned in the same light. I have a great belief in his talents. He will continue to make contributions in the time to come."


San Francisco Chronicle Datebook
San Francisco Chronicle Datebook 5-4-2008
"This Week" Picks

Monday 5-5-8
sMusic
Richard Howell

Tenor saxophonist Richard Howell, who's also adept at playing a number of other instruments, is not a guy you hear too much about, but he's a lively force on the local scene, tirelessly devoted to spreading the jazz gospel, with an accent on African influences. Howell's Coltrane-inspired sax playing is in high demand – he's been hired by Etta James, Chaka Kahn, Don Cherry, Buddy Guy and many others. Tonight Howell leads a group with drummer E.W. Wainwright, pianist Fred Harris, bassist Gary Brown and Destiny, "harpist from the hood." For a sample of Howell performing, go to
Links.sfgate.com/ZDEA $16-$20. 8 and 10p.m. Yoshi's, 1330 Fillmore St, San Francisco.
(415)655-5600, sf.yoshis.com